Conch Jam 3: Party for Big Dogs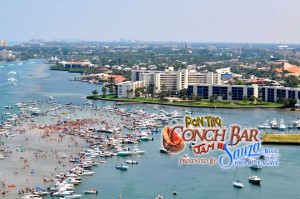 Inexcusable cliché, but since it's all for a good cause, it has to be said: next Saturday, the Tequesta Sandbar is going to the dogs.
From noon to 4 p.m. on Saturday, July 20, the middle of the Intracoastal Waterway plays host to the 3rd annual Conch Bar Jam, a musical fundraising event featuring live music, BBQ, and beer! Join a few thousand of your closest friends (and a few hundred of their boats) to have a great time, all for the benefit of Big Dog Ranch Rescue, a no-kill dog rescue inWellington,Florida.
Big Dog Ranch Rescue sits on 28 acres, with a mission to provide shelter, care and love to homeless or otherwise unwanted dogs of every breed (and size!). They work to adopt their "guests" out to loving homes, and in the process promote animal welfare through education programs and community outreach initiatives.
As in previous Conch Jams, Inlet Cab Company will be running shuttles between Sweets Seafood (where you should park if coming by car) and Black Pearl Marina, where participants can catch boat transportation to the sand bar. For those arriving by boat, the Tequesta Sandbar lies just north of the Jupiter Inlet on the west side. You can't miss it — look for, well, everybody!
This year's musical lineup includes Big Vince and the Phat Cats, Moska Project and Seagrape Shouldjah's; BBQ will be provided by Cheney Brothers, Confederate Smoke Competition BBQ & Tree Locators. And as always, Conch Jam wouldn't be the same without the famous bottomless souvenir beer mugs.
The event is free; wristbands are required for food, beer and transportation. Food wristbands are $10, beer wristbands (which include the souvenir mug) are $25; the Ultimate Wristband, which includes shuttle service, beer and BBQ is $30, with a discounted price of $25 if purchased in advance. To pre-purchase any wristbands, visit the website: http://www.pontiki.org/conchjamb/conchjamtickets